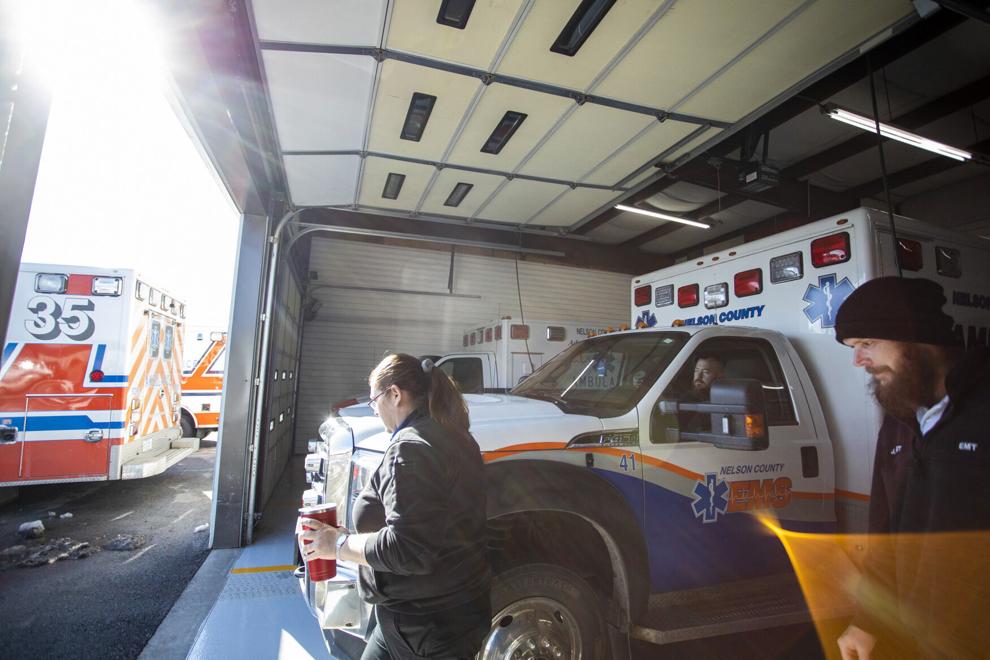 Low pay, grueling hours, and worker shortage are putting a strain on EMS and hospital facilities. The issue is being felt across county lines and the country.
What began to peak during the start of the pandemic has yet to begin to recover and few people are applying for jobs with high risk and fewer benefits.
"There just really isn't a drive to get into this job," said Nate Hornback, an EMT with the Nelson County EMS. "That's kind of what's hindering being able to retain people."
Shift Leader Brendon Patten, one of the staff who worked Christmas Day with a small crew, said nearly the entirety of their shift was spent making runs.
"We found ourselves on the road pretty much the entire 24-hour shift," he said. "Pretty much just call after call after call."
With snow and ice-covered roads, EMS was only responding to emergency calls. The switch was made to reduce some of the stress brought on by non-emergency calls, which make up the majority of their runs.
An increase in non-emergency calls — which make up more than 80% of what they respond to — in the last few years adds stress to already limited resources.
"One of the biggest issues is that EMS has gotten to where it's just abused," said Hornback. "People have that mindset of 'oh, my insurance will cover it,' even if it's just an upset stomach."
He added others don't have insurance and EMS doesn't get compensated for those runs.
Once a fully staffed department, Nelson County EMS now is having trouble with retention as employees have made lateral moves to other areas offering higher wages and better benefits, Patten said.
Each ambulance has to be staffed with two people to make runs and the county has to have at least three on call around the clock to provide coverage for the more than 48,000 residents in the county.
"The way we have been running is three trucks and a supervisor in a car," said Patten. "We are supposed to have four trucks (eight staff members on shift) every day, but we are down two to three part-time (staff)."
The decline in staff became noticeable around the start of the pandemic, Hornback said, adding that as things have begun to change back to pre-covid states, area staffing has not returned.
"You have people that leave for medical reasons because this is a high exposure job to covid, so those immuno-compromised people, (it's) not a good position for them to be working in," he said. "We had a few people who retired recently so you lose those, but there is no drive really to get into this job anymore."
That drive Hornback and Patten said has been affected by a slew of issues surrounding the medical field.
For an EMT to become a certified paramedic, it requires a two-year degree. In the same amount of time, they said, a person can become a nurse and make twice the amount of money.
The risk of burning out is a real fear for staff, as well as the concern that while responding to a non-emergency call, they may not be able to arrive on the scene of a person who is facing a critical issue.
"With people using EMS, sometimes as taxis basically, that's leaving the serious emergencies left unattended," EMT Tonya Lutz said.
The staff typically works in 24-hour shifts, which are often fast-paced with little to no downtime between calls and transports.
"Here lately it's been like, if you can get three hours of sleep or more that's a good shift for you," Patten said.
Nelson County is not the only one feeling the effects. Other counties and areas across the country are feeling stress from a lack of staffing and resources.
EMT Nick West, the only new applicant for EMS in months, is a part-time hire from Hardin County who said they are seeing the same thing.
"We run nine trucks every day and it's still not enough," he said.
This creates another problem for areas that share mutual aid because sending help across county lines also ties up trucks and staff for hours if they are even available to help.
"Let's say there is an accident on the Bluegrass Parkway right on the Nelson-Hardin county line," Hornback said giving an example. "Hardin County is tied up, all of our trucks are tied up, your next closest county is going to take 30 to 45 minutes to get to that run."
Lutz said a lot of people who call for minor issues could be seen by staff at an urgent care facility or by their family doctor, but whereas those require appointments, people believe they will be seen instantly if they arrive in an ambulance, which isn't the case and causes congestion in the hospital as well.
Tabatha Yates, interim Emergency Room Director at Flaget Hospital, said for a small rural hospital their staff sees as many patients a month as their larger sister facility St. Joseph East in Lexington.
Around 98% of people who are admitted to the hospital come in through the ER she said.
Last month the hospital saw 1,546 patients, with more than 330 of those being brought in by ambulance. The majority of those go into triage to determine which are the more critical cases.
As of Jan. 10 she said the ER has already seen 105 patients.
To determine who gets beds first, Yates said they use the Emergency Severity Index or the ESI level. Similarly to EMS, Flaget saw a drop in staff at the start of covid that has not returned and the hospital itself is small with limited beds, 52 rooms in total, 16 of which are in the ER.
"We are trying to do the best that we can with the staff that we have," She said. "We might not be running to capacity on our units, so that means that if we have three patients that are down in the ER and one needs an ICU bed, one needs a TCU bed and another needs a (medical surgery) bed we might be holding those patients down in the ER. Sometimes (it's) for just a couple of hours and sometimes it's till the next shift, 12 to 24 hours."
A plan Yates said they have for the spring is to hold a health fair to give people a chance to come in and get better educated on when an issue is critical enough to call EMS and when it can be treated at home or by a health care provider.
"We want to get in the community and remind them, 'Hey, this is the parameters for high blood pressure, and what an actual temperature is,' " she said.
She added all cases are different and some people have underlining health conditions, but that is why they want to work on educating the public on what to recognize.
Director of Emergency Management Services Joe Prewitt said the issues his staff and others face is one that will have to be addressed at some point, and he hopes a way to separate non-emergency calls from emergency ones can be established in the near future.
"Where do we go? I think that's the question," Prewitt said. "What happens when this level of use, level of required service continues, and the person calls 911 and there is no ambulance to send. What do you do?"